Best Lakes in Boulder: Boulder Lakes Recreation Guide
Posted by Boulder Home Source on Friday, March 5, 2021 at 6:31 AM
By Boulder Home Source / March 5, 2021
Comment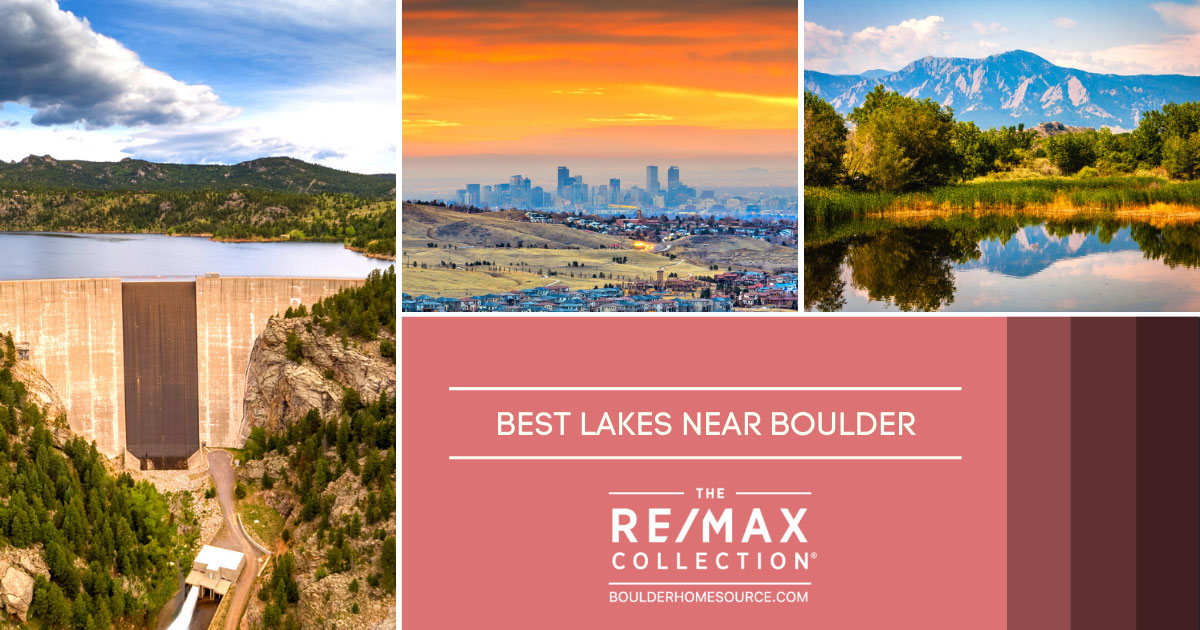 Boulder, Colorado, just 30 minutes from Denver in the heart of the Rocky Mountains, is a magnet for outdoor enthusiasts and nature lovers. Throughout the year, there are countless hiking and biking trails, skiing and other winter sports, camping, climbing, and of course, water activities.
Colorado is known for its several mighty rivers, but in Boulder, there are several beautiful lakes offering just as much opportunity for recreation. Next time someone wants to get on the water in Boulder, there's no need for them to head out of town. Instead, they can go to one of these lakes near Boulder after loading up their fishing gear or kayak to witness first-hand why so many people rave about Boulder's natural beauty.
Boulder Reservoir
Boulder Reservoir Amenities
Bass and trout fishing
Boating
Swimming in designated area
Hiking & biking trails
Stand-up paddleboarding
On-site restaurant and taphouse
Day-use picnic areas with BBQ grills
The 700-acre Boulder Reservoir and Boulder Reservoir Regional Park provide year-round outdoor recreation on the city's north side. There are opportunities for bass and trout fishing, boating, and swimming in designated areas, in addition to several hiking and biking trails in the park. All types of boating are popular at Boulder Reservoir, including kayaking, canoeing, sailing, and even wind- and kite surfing. Stand-up paddleboarding (SUP) is extremely popular as well, but personal watercraft and jet skis are prohibited. Community sailing and water sport classes and camps are offered throughout the year starting at age seven.
Overnight camping is not allowed in Boulder Reservoir, but there are day-use picnic areas, some equipped with BBQ grills, available for rent. Guests are also welcome to bring their own propane grills or rent charcoal grills from Boulder Reservoir. Alternatively, there's a restaurant and tap house, DriftWind, that's open year-round. It has extended hours during peak summer season and serves dinner only between Labor Day and Memorial Day.
Visitors must pay a daily entrance fee to gain admission into Boulder Reservoir from mid-April to mid-October. There are also a number of pass options that offer discounted admission.
Coot Lake
Coot Lake Amenities
Duck and bird watching
Bass fishing opportunities
Walking path around the lake
Near Tom Watson Park
Coot Lake is a beautiful, peaceful lake adjacent to the Boulder Reservoir Regional Park. Longs Peak and Boulder's famous Flatirons serve as the lake's gorgeous, natural backdrop. Much of Coot Lake is designated as a wetland species wildlife preserve, so it's a very popular area for duck and bird watching. As one might expect, coots are frequently spotted at this lake.
While Coot Lake doesn't have a beach area like Boulder Reservoir, it is a popular destination for fishing and walking. The loop path around the lake is a short 1.2 miles, but it can easily be combined with a walk or hike around the Boulder Reservoir for a longer distance of just over five miles. Tom Watson Park is also just across the street.
While boating isn't permitted at Coot Lake, it remains a popular bass fishing destination nonetheless, as the calm water allows fishermen to frequently catch large bass. No matter what brings someone to Coot Lake, they should pack some snacks and stay for the sunset.
Twin Lakes
Twin Lakes Amenities
Fishing permitted
Walking, jogging, & biking trails
Bird watching
On- and off-leash dog recreation
Located in the picturesque Gunbarrel neighborhood just 10 minutes from downtown Boulder, Twin Lakes is a popular recreation area for fishing, walking, jogging, and biking. The wetland lakes also act as a haven for many wildlife species, including rare birds such as Great Horned Owls.
Twin Lakes consists of the West Lake and East Lake, and each has its own 0.7-mile walking trail. The lakes are adjacent, so the loop trails can easily be combined for a longer distance. Dogs are allowed off leash on the West Lake side, including both the trail and recreation areas along the water. Because of this, Twin Lakes is extremely popular with dog owners and their active pups. Dogs are permitted on the East Lake trail, but must remain on leash.
The Twin Lakes recreation area is day-use only, meaning camping isn't allowed. Boating, swimming, and wading are also prohibited, but fishing is permitted. However, unlike many other lakes in Boulder County, Twin Lakes is not stocked with fish. The lake areas and trailheads are open from sunrise to sunset, but the Longmont-to-Boulder (LoBo) Regional Trail, which runs directly through Twin Lakes, is open 24 hours a day, seven days a week.
Gross Reservoir
Gross Reservoir Amenities
Non-motorized boating
Stand-up paddleboarding
Fishing & ice fishing
Walking & hiking trails
Overnight camping
Direct access to South Boulder Creek
Gross Reservoir is absolutely beautiful and has a fascinating history, as well. It was built in 1954 to regulate and store water that flows underneath the Continental Divide. Gross Reservoir was named in honor of the project's chief engineer, Dwight Gross, and it features nearly 11 miles of shoreline.
Outdoor recreation abounds at Gross Reservoir, with opportunities for non-motorized boating, stand-up paddleboarding, fishing, hiking, and overnight camping. Colorado Parks and Wildlife stocks the cold-water lake with various trout species, tiger muskie, and kokanee salmon, and ice fishing is permitted when the lake freezes over.
From Memorial Day through the end of September each year, visitors can bring non-motorized, car-top boats (kayaks and canoes) and SUPs under 18 feet long onto Gross Reservoir. There's also direct access to South Boulder Creek just below the reservoir at Osprey Point.
Gross Reservoir features a number of popular hiking trails for various skill and experience levels. Guests can also camp overnight at the Winiger Ridge dispersed campgrounds. Both the reservoir and campsites are free to visit year-round.
Viele Lake
Viele Lake Amenities
Fishing for carp, sunfish, crappie, and bass
Non-motorized boats allowed
Walking & running trails
Small playground
Disc golf course
Picnic shelters with BBQ grills
On-leash dogs allowed
Viele Lake is situated inside scenic Harlow Platts Community Park in South Boulder. It is nestled in a residential neighborhood at the base of the Rockies, so it is largely considered a hidden gem, just far enough off the beaten path to be overlooked by many visitors.
This lake may be small, but it has a reputation for being the source of excellent fishing. Because it is small, it simply doesn't support large fish, but fishermen can typically count on catching several carp, sunfish, crappie, and smaller bass during their visit. Non-motorized boats such as kayaks and canoes are permitted at the lake, so long as they are under 14 feet long. Paddleboards and swimming are prohibited.
Viele Lake features a paved .7-mile walking and running trail, plus there's a playground, a popular disc (Frisbee) golf course, and picnic shelters with BBQ grills. The park and lake are also adjacent to the South Boulder Recreation Center. Leashed dogs are permitted at the lake and on the trails.
Spend the Day at One of Boulder's Best Lakes
Boulder certainly isn't short on outdoor recreational activities. In particular, there are numerous lakes for fishing, boating, swimming, and water sports, or even just taking in the scenery from a lakefront luxury home or mountain cabin. However, Boulder's lakes are just the beginning of what this beautiful Colorado city has to offer.