Boulder Hotels & Resorts: The Best Places to Stay
Posted by Greg Smith on Friday, August 20, 2021 at 7:27 AM
By Greg Smith / August 20, 2021
Comment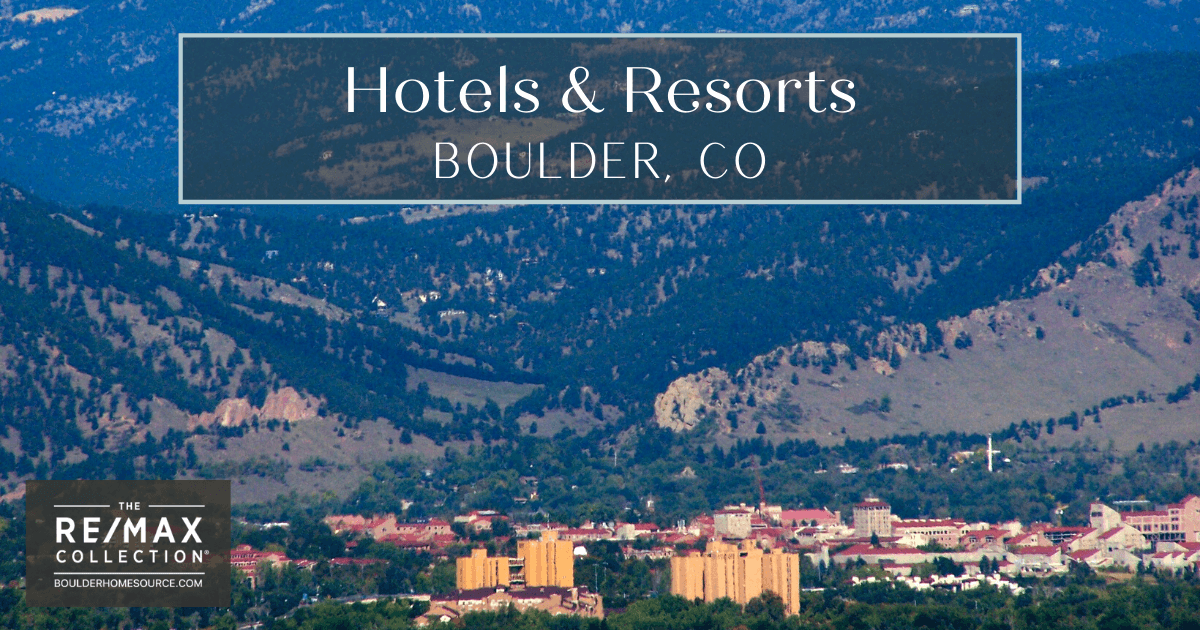 Every year, people travel from across the world to vacation in the city of Boulder. With so many fun things to do, it's no wonder that it's one of the top vacation destinations in Colorado. Tourists on vacation and locals planning a staycation in Boulder find that there are plenty of excellent lodging styles to choose from. Swanky hotels in the Downtown Boulder neighborhood invite you to live like a local, while charming inns nestled in the mountains provide an authentic rustic-chic experience. Read on for the list of Boulder's top resorts, hotels, and inns to plan a perfect Rocky Mountain vacation.
Resorts in Boulder
Nothing complements a day of exploring the exciting outdoor activities in and around Boulder like unwinding at a spa. Although there's just one spa resort in the city, it offers top-of-the-line relaxation that's sure to leave guests rejuvenated for their next day of adventure.
St Julien Hotel & Spa
St Julien Hotel & Spa Amenities
Salon services and massages
Jill's Restaurant and Bistro
T-Zero bar with an outdoor terrace
Poolside service
Cozy common areas with Wi-Fi
The luxury offered at St Julien Hotel & Spa is hard to compete with. Each beautiful room boasts fine linens, Canyon Mint bath products, and in-room perks like plush robes and a fully stocked mini-bar. Ultra-comfortable beds, separate seating areas, and kitchenettes in each suite make guests feel like they're in a private home.
St Julien offers several packages that are specific to a guest's desires. Birding, golfing, dining, and much more can be included. Feel good about staying here, as the resort has a Green Committee that ensures St Julien Hotel & Spa follows the most eco-friendly practices.
St Julien Hotel & Spa Additional Information
Phone: 1-877-303-0900 or 720-406-9696
Rates: Start at $350 per night
The Best Boulder, CO Hotel Options
With such a broad selection of Boulder hotels to choose from, everyone is sure to find something that matches their preferences. Here are a few Boulder hotels that are iconic to the city and provide a relaxing basecamp near the mountain attractions.
Hotel Boulderado
Hotel Boulderado Amenities
Fresh flowers, gourmet chocolates, and bottled water in every room
Concierge services
Aveda toiletries and plush Boca bathrobes
Premium bedding and linens
Marianna's aesthetics and spa
Room service
24-hour front desk
The historic Hotel Boulderado was established in 1906 by community members and was designed by William Redding. While the name Hotel Flagstaff was planned, innovators thought Boulderado more adequately represented the lodge's old west and Victorian-era vibe.
Today, the hotel is one of the oldest operating facilities in the state and is well-appointed with conveniences and amenities.
Each room is equipped with a mini-fridge, free Wi-Fi, cozy furnishings, and large windows to allow in the light and showcase sweeping views of the Flatirons and the Rocky Mountains foothills. After a day of exploring, dine at the elegant Spruce Farm & Fish and grab a cocktail or local craft brew at The Corner Bar.
Hotel Boulderado Additional Information
Phone: 303-442-4344
Rates: Starting at $275 per night
Basecamp Boulder Hotel
Basecamp Boulder Hotel Amenities
Fitness center access
Free high-speed internet
Indoor hot tub
Indoor dry sauna
Laundry and valet services
Adventurous travelers seeking unique hotel amenities and planned outings in package options adore Basecamp Boulder Hotel. As one of Boulder's most dog-friendly destinations, this hotel prioritizes top-quality accommodations and budget-friendly prices.
This boutique hotel is just minutes away from the excitement of Pearl Street and offers exceptional access to the mountains and ranges near Boulder.
Basecamp Boulder Hotel also offers upscale amenities that make it a Rocky Mountain oasis for travelers and explorers.
Basecamp Boulder Hotel Additional Information
Phone: 303-449-7550
Rates: Starting at $160 per night
Foot of the Mountain Motel
Foot of the Mountain Motel Amenities
Free continental breakfast
Dog-friendly
Free Wi-Fi
Lending library
In-room fridges
Bathtubs with mountain views
The Foot of the Mountain Motel is a historic Boulder lodging choice, and it is the oldest operating motel in the city. When making renovations and updates to the facilities, modern comforts merge perfectly with old-school charm.
There is lots of quiet and wildlife near this Boulder Creek location, but it's still within walking distance to downtown. Classic Americana style and comfy updates make any stay a treat at Foot of the Mountain Motel.
Foot of the Mountain Motel Additional Information
Phone: 303-442-5688
Rates: Start at $149 per night
Chautauqua Cottages & Lodges
Chautauqua Cottages & Lodges Amenities
Tennis, basketball, and pickleball courts
On-site entertainment: concerts, films, talks, yoga, and more
On-site general store
Playground
Screened-in porches
Fully equipped kitchens
Having won the 2021 Hotels.com Most Wanted Award, the Chautauqua Cottages & Lodges is an 1898 National Historic Landmark established by Boulder pioneer Theodosia Ammons. She was a staunch suffragist and was the first female dean at what is now known as Colorado State University.
Over time, the quarters transitioned from small cabins and tents to more modern lodges and cottages. Unique features truly set Chautauqua Cottages & Lodges apart from other destination resorts, as does their conceptual focus on rejuvenation, enlightenment, and respite.
Choose from two lodges and 58 cottages available in studio, one-, two-, or three-bedroom layouts. Each smoke-free accommodation is also free of televisions and phones for a relaxing escape. Pearl Street is nearby for shopping, dining, and visiting popular local attractions.
Chautauqua Cottages & Lodges Additional Information
Phone: 303-442-3282
Rates: Start at $199 per night
Boulder's Best Inns and Bed & Breakfasts
Nothing compares with the personalized experience one can have when staying at a cozy inn or bed and breakfast in Boulder, CO. Most have spacious rooms and are limited to hosting only a few guests simultaneously. Discover the best B&Bs and inns around the community in the list below.
The Bradley Boulder Inn
The Bradley Boulder Inn Amenities
Free parking
Gourmet breakfasts
Afternoon wine and cheese hour service
Cookies, coffee, and tea
Reputed to be one of the city's favorite places to stay, the Bradley Boulder Inn enjoys a convenient downtown location and offers a different type of experience for visitors. One can easily walk to the city center's attractions, such as the University of Colorado and Folsom Stadium.
The most sought-after amenities in some units include jacuzzis, fireplaces, and private balconies that allow for impressive vistas of the surrounding scenery.
The Bradley Boulder Inn Additional Information
Phone: (303) 545-5200
Rates: Start at $300 per night
Boulder Guest House
Boulder Guest House Amenities
Workspace and Wi-Fi and a full-size desk
43" smart TVs with Roku
Zen meditation room
Balconies w/ room darkening shades
Two-person jetted tubs w/ premium bath products
Coffee and tea station
The iconic Boulder Guest House was once known as the Briar Rose Bed and Breakfast. Private entrances to each unit make it easy for guests to come and go as they please. The welcoming staff goes above and beyond to meet any special requests.
Throughout the rooms and guest house common areas, one will be saturated by original artwork by local artisans. Rooms boast radiant floor heating, skylights and wood-burning fireplaces that boost comfort and aesthetic appeal. Boulder Guest House has a Victorian feel, making it perfect for weekend getaways and special occasions.
Boulder Guest House Additional Information
Phone: 303-442-3007
Rates: Start at $125 per night
Alps Boulder Canyon Inn
Alps Boulder Canyon Inn Amenities
Antique furnishings
Fireplaces
Luxury sheets
Private baths with rainfall showers and/or whirlpool or clawfoot tubs
Balconies on some units
Located just five minutes away from the famous Pearl Street Mall, Alps Boulder Canyon Inn is a lovely mountain escape that offers alpine relaxation. Recently renovated, this boutique bed and breakfast was first a stagecoach stop after it was completed in 1870. Both historical and modern, a stay in the Alps Boulder Canyon Inn creates memories that last a lifetime. The twelve rooms here are distinctive, with posh amenities and features.
This kid-friendly inn provides free Wi-Fi, hot breakfasts, afternoon snacks, tea times, and complimentary evening desserts. Take time to sit on the patio and soak in the mountain views or head a few miles away to explore these gems close up. Nightly and weekly rates are available, as well as all-inclusive package deals.
Alps Boulder Canyon Inn Additional Information
Phone: 303-444-5445
Rates: Start at $125 per night
Find the Perfect Retreat for a Boulder Vacation or Staycation
Anyone planning a trip here or who needs a place to stay while shopping for a Boulder home will find these hotels, inns, and resorts to be phenomenal choices. Boulder is one of the top places to live in all of Colorado and offers residents a mix of urban amenities surrounding some of the world's most beautiful natural attractions. Eat, drink, be merry, and rest well at these highly rated accommodations in Boulder.