Boulder Driving & Commute Times: Driving & Commuting in Boulder, CO
Posted by Boulder Home Source on Wednesday, May 19, 2021 at 10:00 AM
By Boulder Home Source / May 19, 2021
Comment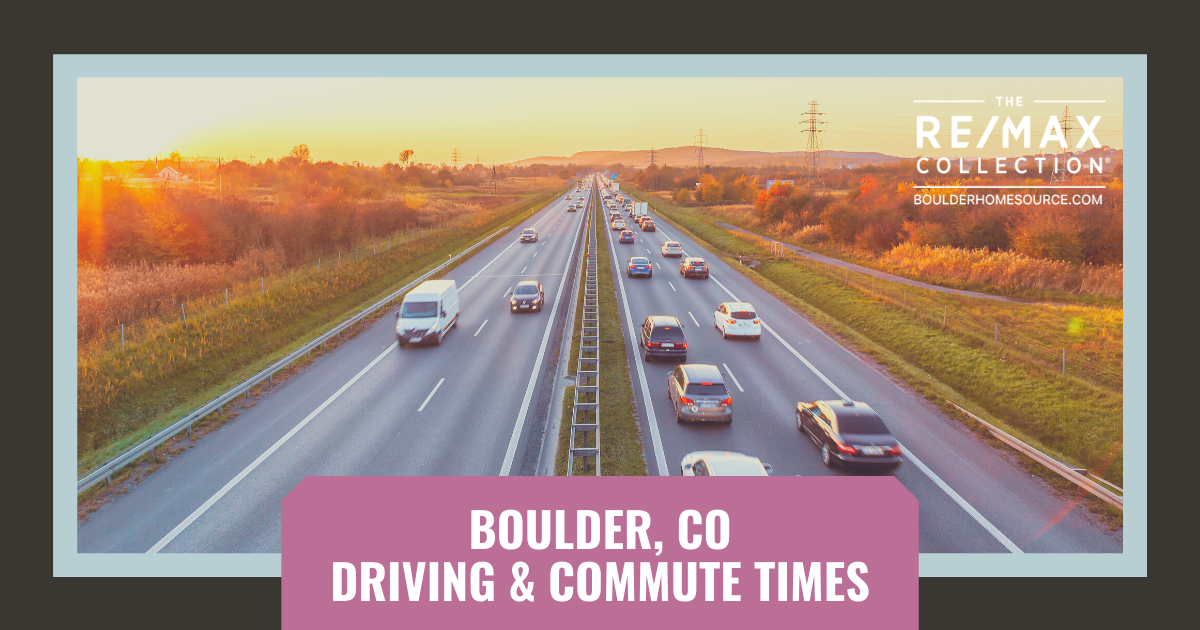 After purchasing one of the many new construction homes or downtown condos in Boulder, Colorado, new residents need to prepare for driving in the area. Whether prospective residents have lived in the mountains their whole lives or are more familiar with sea level, it's important to brush up on driving requirements in and around the city to ensure safety on the road throughout the year. Here's what to know about driving in Boulder.
Get to Know Boulder's Major Roads
In Boulder, there are three major roads that locals use to get from point A to B each day. These include highways 7, 119, and 36. State Highway 7 runs east to west and connects downtown Boulder to Interstate-25. Additionally, State Highway 7 (north) turns into Highway 19 (south) in the middle of the city limits.
State Highway 119 is just north of the Boulder Municipal Airport. This road is used often by commuters who prefer to live outside the hustle and bustle of the downtown area. U.S. Highway 36 is one of the largest roadways in the area. Commuters may use the highway or, for a small fee, the express lanes. The highway runs north and south through Boulder. Over 150,000 cyclists travel on the U.S. 36 Bikeway each year.
What to Expect During Rush Hour in Boulder
As with all cities home to more than 100,000 people, rush hour is part of daily life. On average, the morning rush runs from 6:30–9 a.m., and the evening rush is from 4–6 p.m. What is typically a 10-minute drive can easily turn into a 30-minute drive. While the city is expanding roadways to meet traffic demands, residents should expect to add 10–20 minutes to their driving time during rush hour.
Parking in Boulder
Parking in Boulder is fairly easy due to the numerous parking options available. Between parking garages, lots, and on-street parking, residents can usually find a spot near their destination. On weekends or holidays, visitors may need to walk a few blocks to their destination.
Parking is free on city-recognized holidays, including all federal holidays. During these days, it can be harder to find parking. All other times, parking garages offer reasonable rates of $1.25 per hour for the first four hours. On weekdays between 3 p.m. and 3 a.m., there is a flat rate of $3.
Those who do not want to park in garages can utilize street parking. Fees for these spots are $1.25 per hour. However, visitors only pay for the time they utilize the space, meaning they only pay $0.25 for every 12 minutes they park.
Most street parking has a three-hour time limit, which is enforced Monday through Saturday from 9 a.m.–7 p.m. There are no maximum limits on Saturdays, and street parking is free on Sundays.
Other Helpful Things to Know About Driving in Boulder
Driving in Boulder means keeping mountain and winter driving in mind at all times. Because the higher altitudes can affect an engine's acceleration and climbing power, residents should consider driving a crossover, SUV, or truck whenever possible. Additionally, many types of wildlife live in Boulder. It's completely normal to see deer, bears, and other animals in the middle of the road.
Because winter conditions can quickly turn from mild to extreme, drivers need to learn about roadway conditions. Before leaving the house, residents should know if there is enough visibility to navigate safely. During winter storms, the Department of Transportation (CDOT) may issue a Code 15 or 16. Code 15 means drivers must use snow tires on any vehicle that does not have a 4-wheel drive or an all-wheel drive. Code 16 means vehicles must have snow chains or an AutoSock. Fines for disobeying these codes begin at $130.
Colorado has a few specific driving laws worth noting. Those who like to listen to music while driving must do so with their vehicle's radio. Using headphones while driving is illegal throughout the state, not just Boulder.
There are maximum and minimum speed limits on all major roadways. If drivers cannot maintain the minimum speed, they can face a fine.
On roads with a posted speed limit that exceeds 65 miles an hour, driving in the left lane is strictly prohibited. Vehicles may only use the left lane to pass. The CDOT will pull over those driving in the left lane longer than necessary.
While driving in town, drivers may turn right on a red light after making a complete stop. Furthermore, drivers may turn left on a red light under certain circumstances. Drivers must be driving down a one-way road and turning left into another one-way road. Because downtown Boulder is incredibly walkable and bikeable, the full stop at a red light law is strictly enforced. Failure to stop fully can result in a ticket.
Come Home to Boulder
The sights and sounds of the city are just some of the joys of moving to Boulder. Driving in the mountains is a wonderful bonus. However, all drivers must be vigilant and aware of their surroundings at all times. Animals and severe weather are just some of the challenges drivers face in Boulder. Anyone who is uncomfortable driving in the snow has the option to use Boulder's public transportation during the winter. Fortunately, driving in Boulder eventually becomes second nature for most residents.