Boulder Vacation Guide: What to Do When Vacationing in Boulder, CO
Posted by Boulder Home Source on Tuesday, April 20, 2021 at 1:32 PM
By Boulder Home Source / April 20, 2021
Comment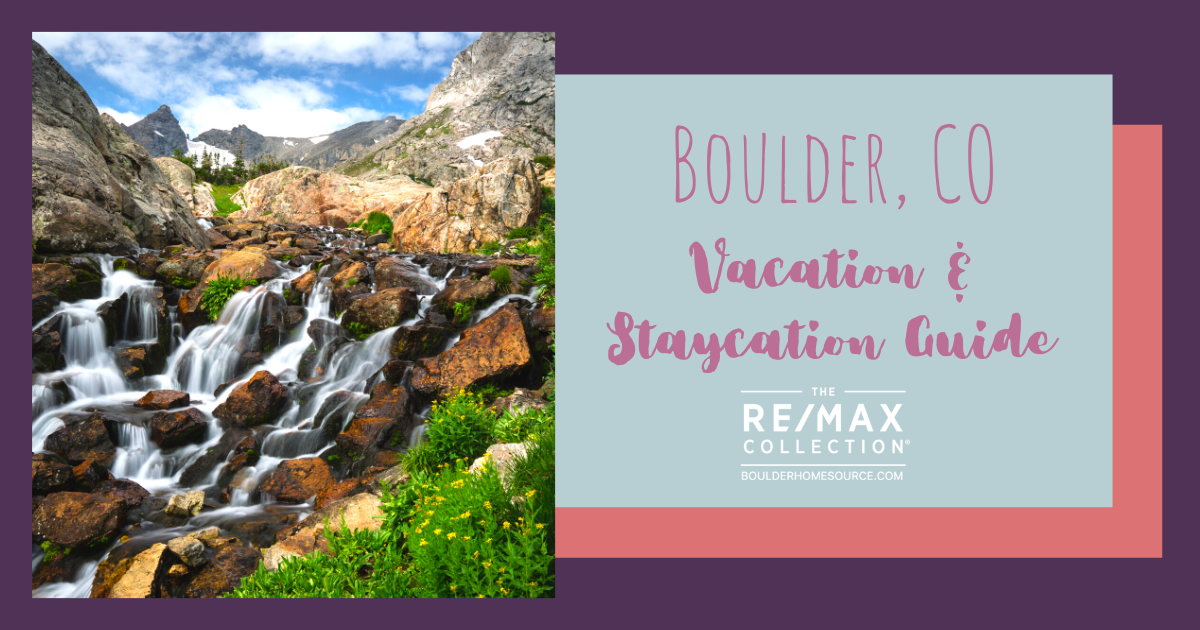 Boulder, Colorado, is about 25 miles northwest of the Denver metro area, with the Rocky Mountain foothills as a backdrop. It is the most populous community in the county, serving as the seat of Boulder County.
Revered for its natural beauty and opportunity for a wide variety of outdoor activities, Boulder is known for promoting a healthy, active lifestyle. Those seeking outdoor adventure can enjoy Boulder's many hiking options, cross-country skiing, mountain biking, camping, exploring, river rafting, and other water recreation. Visitors to Boulder will also find a city that has emphasized the arts and preserving the surrounding natural landscape. So where should one go, and what should one do when on a Boulder vacation or staycation? This guide might help you decide.
Lodging in Boulder
Boulder offers visitors various lodging options, from rustic cabins to quaint bed-and-breakfast establishments to luxurious hotels with all the amenities. Tourists may choose to be in the heart of the city or a more remote location with quick access to Boulder's trails, mountains, and waterways.
Hotel Boulderado
Hotel Boulderado Amenities
Same-day laundry
Valet parking
On-property restaurants and cocktail lounges
On-Demand movies
Free local history tours
Billed as the top-rated historic hotel in Colorado, the Hotel Boulderado is in the heart of Downtown Boulder, surrounded by a wide variety of bars, restaurants, and coffee shops.
The Boulderado was the first luxury hotel to open for business in Boulder. Today, it's a city landmark and listed on the National Register of Historic Places and a member of Historic Hotels in America.
The hotel has been operating since New Year's Eve in 1908 and exhibits a mixture of Victorian and more localized architectural styles. To this day, it throws an extravagant New Year's celebration every year. It offers ready access to the Pearl Street Mall and other downtown amenities.
The property includes an in-house restaurant as well as an in-house bar. Guest rooms are well-appointed, and all have expansive views of Downtown Boulder and the nearby Boulder Flatirons and Rocky Mountains' foothills.
Alps Boulder Canyon Inn
Alps Boulder Canyon Inn Amenities
Homemade breakfasts daily
Food can accommodate dietary restrictions
Fireplace and jacuzzi tubs in rooms
Five minutes from Pearl Street Mall
Located a mere seven minutes from Downtown Boulder and just a five-minute drive from the famous Pearl Street Mall, the Alps Boulder Canyon Inn is one of the city's boutique bed-and-breakfast establishments.
With its location apart from the hustle and bustle of the city's core, the Alps offers a respite from hectic lifestyles and is a popular getaway spot.
The Alps started its life as a stagecoach shop, built around 1870. Guests are appreciative of its proximity to all of Pearl Street's shops and eateries. In addition to providing easy access to downtown, the property is just four miles from the University of Colorado campus.
This 12-suite guesthouse offers many sought-after amenities, including antique furnishings, satellite television, free Wi-Fi, fireplaces, high-thread-count bed linens, ensuite bathrooms, and rainfall showers. A limited number of suites also feature whirlpool tubs, antique clawfoot baths, or balconies. Guest can also enjoy a home-cooked breakfast, afternoon tea, and evening dessert.
The Queen Anne Bed & Breakfast Inn
The Queen Anne Bed & Breakfast Inn Amenities
Four suites and nine themed rooms
Free breakfast served daily
Complimentary happy hour
Located minutes from Downtown Boulder
For guests wishing to enjoy both Denver and Boulder, the Queen Anne Bed & Breakfast is a chic inn set in downtown Denver, about 28 miles from Boulder.
The two-building property was constructed in 1879 and 1886. The Queen Anne aims to provide guests with a comfortable stay while incorporating innovative environmentally friendly design and emphasizing the local community. Established as the first bed-and-breakfast inn when it first opened to the public in 1987, each room is uniquely themed, with some suites featuring fireplaces, antique furnishings, free-standing baths, and views of Benedict Fountain Park. Each suite is tastefully decorated by a local artist, bringing the inn acclaim for its gallery-inspired rooms and original curated local art collections.
Guests can enjoy a free evening reception with wine and cheese, while locally sourced ingredients highlight each morning's breakfast. The Queen Anne is close to multiple retail and dining establishments. Guests can enjoy the open spaces of the park, located directly across from the inn.
Food and Dining in Boulder
Boulder is known as a foodie's paradise. The city's location at the base of the foothills to the Rockies provides an expansive, productive valley for growing a variety of local produce, providing impetus for the local farm-to-table movement. Along with the innovative work of its local chefs, the city is one of the nation's premier microbrewing areas, with over 22 breweries operating locally.
Flagstaff House
Popular Dishes at Flagstaff House
Beef Tenderloin Carpaccio
Hudson Valley Foie Gras
Bouillabaisse & Red Snapper
Vanilla Bean Crème Brûlée
Roasted Berkshire Pork Belly
Visitors to Boulder who are truly looking for an authentic Colorado experience may want to include dining out at the Flagstaff House on their list. Located at an elevation of 6,000 feet, the restaurant overlooks the scenic beauty below, offering unmatched views.
Flagstaff House offers its guests a fine dining experience. It is known for its unique American dishes and its world-renowned wine list. A family-owned establishment, the original Flagstaff House was built as a summer cabin in 1929 and later sold in 1937. It was purchased in 1954 by the Buelkes family, who established it under its current name and later sold it to its present-day owners in 1971. It has been updated through the years for year-round use.
Boulder Dushanbe Teahouse
Popular Dishes at Boulder Dushanbe Teahouse
Tajikistan Plov
Karaage Sandwich
Samosas
Cuban Sandwich
Lapsong Souchong Benedict
Located in downtown Boulder, near Central Park and the Boulder Museum of Contemporary Art, the Boulder Dushanbe Teahouse represents a unique dining experience.
The teahouse was a gift from Boulder's sister city of Dushanbe, Tajikistan, and continues as a symbol of global friendship. Its bright and colorful facade cuts a unique silhouette in the city's downtown. The menu features meals and an extensive list of over 80 teas.
The Boulder Dushanbe Teahouse also operates a 10-acre farm in nearby Lafayette, which allows it to grow much of its seasonal produce used in the restaurant.
The teahouse is available for special events and offers a catering service, including specialty menus.
Shamane's Bakery & Café
Popular Dishes at Shamane's Bakery & Café
Vegetarian Italian Sandwich
Colorado Bison Pastie
Mediterranean Kale Salad
Boulder Rueben
Blackened Chicken
Shamane's Bakery & Café is a locally owned and operated establishment. Proprietor pastry chef Shamane Simons' international experience brings a unique and global touch to the restaurant's offerings. Shamane's Bakery & Café is just three miles northeast of downtown Boulder.
The café features a wide selection of soups, salads, sandwiches, and several types of pie made fresh. The owner tries to use sustainable and locally sourced ingredients wherever possible.
All baked goods are made from scratch and feature cakes, cupcakes, brownies, cookies, sweet pies, savory pies, pastries, and other desserts. The bakery also creates wedding cakes and other special orders. As with the café, the bakery focuses on using locally sourced ingredients as much as possible.
Attractions in Boulder
Boulder offers residents and visitors alike a whole host of local attractions and things to do. With the foothills of the Rocky Mountains as a backdrop, Boulder goes beyond everyday outdoor adventures to provide access to exhibits preserving its natural history as well as a taste of the area's unique arts and culture.
University of Colorado Museum of Natural History
The University of Colorado Museum of Natural History is about 1.5 miles southeast of downtown Boulder. The museum's first curator was appointed in 1902, charged with creating the museum's collections in an unpaid position. Seven years later, he had a salary, a position as professor, and a separate departmental budget all its own. Meanwhile, the number of exhibits has grown from a handful to more than four million. Today, the museum features five exhibit galleries, a children's area, and a coffee lounge.
Besides traditional exhibits, the museum offers several virtual and educational programs for all ages. The museum also organizes field trips, workshops, discovery kits, and other outreach materials. Those on vacation with kids will find that the museum has quite a lot to offer.
The museum is home to the largest natural history collection in the Rocky Mountain area, and it's accredited by the prestigious American Association of Museums.
Fox Theatre
Located less than a mile south of the city's core, the Fox Theatre has been a part of Boulder's cityscape since 1926, when it began as the Rialto Theatre. Its location offers easy access off Broadway and puts it in the University of Colorado campus area.
Early newspaper reports indicate the building was first used as a movie theater, while other accounts state it was a vaudeville theater. The building changed hands many times over the years and even stood empty for a time. Its many uses included a movie theater, vaudeville, music club, and event venue.
Today, the Fox Theatre is a nationally acclaimed live music event venue. It has been recognized by Rolling Stone Magazine, which voted it the fourth top music venue in the nation.
Colorado MahlerFest
Music lovers may want to time their trip to Boulder to coincide with the Colorado MahlerFest. Founded in 1987, Colorado MahlerFest celebrates the music and life of the famous composer Gustav Mahler with a week-long festival, concluding with an orchestral performance of one of Mahler's major symphonic pieces.
As the week unfolds, the festival features two orchestral concerts, a symposium, three chamber events, multiple group dinners, rehearsals open to the public, and a hospitality suite.
Gustav Mahler was a composer and leading conductor of his era. The festival was the brainchild of conductor Robert Olson, who was very moved after hearing Mahler's music while traveling abroad. When he returned to the U.S., he took a position with the College of Music at the University of Colorado, later creating the festival in response to his appreciation for Mahler's music.
Outdoor Adventures in Boulder
Professional athletes are known to come to Boulder to train, so it's no wonder that outdoor enthusiasts—both residents and guests—find the city and its surrounding terrain an inviting canvass for outdoor adventures. While many think of snow sports when envisioning outdoor activities in Colorado, the city has much to offer year-round, including horseback riding, mountain biking, hiking, water recreation, and more.
Chautauqua Park
Operated and maintained by the City of Boulder, Chautauqua Park is just over a mile south of downtown Boulder. The park includes hiking trails, open space, mountain riding, tennis courts, a playground, and several picnic spots. The park also features a community demonstration garden.
The park can trace its origins to over 100 years ago. In 1898, the city's residents approved a bond to purchase 80 acres and label it as "Chautauqua." The land is adjacent to open-space trails via the Chautauqua Trailhead and offers an opportunity for nature exploration and wildlife sightings. Boulder's parks and recreation department also maintains the trailhead. Park amenities include onsite parking, restrooms, bike route access, and bike racks.
Hot Air Balloon Rides
Offering breathtaking views of the majestic Rocky Mountains, hot air balloon rides are a popular outdoor activity near Boulder. These colorful balloons dot the morning sky, adding a burst of color.
Headquartered about 10 miles east of downtown, Fair Winds Hot Air Balloon Flights provides customers with rides from launch sites within Boulder. The company offers a full continental breakfast before launch and a celebratory bottle of Champagne or sparkling cider upon return. The company also provides an official Fair Winds T-shirt, a pin, a personalized flight certificate, and a photo.
Each flight is approximately one to 1.5 hours long, with the launch taking place in the morning. Six to 10 guests can ride per balloon. Guests are also welcome to enjoy participating in the inflation and deflation of the balloon. Inclement weather or high winds will keep a scheduled flight from launching.
Whitewater Rafting
One of the most popular warm-weather outdoor activities around Boulder is whitewater rafting. Among the companies offering whitewater rafting services is Colorado Wilderness Rides and Guides.
Unless a rider is highly proficient in whitewater rafting and familiar with the area to be rafted, it's essential to hire professional guides, like Colorado Wilderness, to help reduce the risk of injury and equipment damage. A guide can also ensure your trip stays on course.
The company offers various whitewater trips, from low-risk to the most challenging of rides. Rivers rafted include Clear Creek River, about one hour from Boulder, and Upper Colorado River, located another couple hours beyond Clear Creek River. The Clear Creek River trip offers exciting, half-day trips for those in Boulder, leaving plenty of time for additional activities, such as ziplining, rock climbing, and fly-fishing, among other ventures. Full-day trips are available on the Upper Colorado River, which can include additional activities incorporated into the trip. The Upper Colorado River trips are also suitable for larger groups.
When to Visit Boulder
The timing of a trip to Boulder or even a staycation for those calling this vacationland their home year-round depends entirely on personal preference. Those who are outdoor enthusiasts may choose a season in which they can enjoy their favorite pastime to the fullest.
Spring or fall can be the best times to enjoy Boulder when temperatures are typically in the 60s and 70s. This is also the time when most festivals and events are happening. The potential downside to spring is that the city occasionally gets a snowfall as late as May.
Likewise, snow can come as early as September some years, an important point to keep in mind if planning a fall trip. If opting for summer, humidity isn't a problem in Boulder, but temperatures can soar. Winter can be an excellent time to visit.
Discover Boulder Today
Boulder's mild climate and naturally beautiful surroundings make it a popular place to visit and live. The long list of activities awaiting outdoor enthusiasts are reasons many choose to make this Colorado city their home, whether they choose a mountain cabin or a downtown condo.
Besides all the outdoors have to offer, Boulder also has a bustling downtown, an exciting restaurant scene, and plenty of shopping. Visual and performing arts are also emphasized. As a college town, the city is home to many events throughout the year, ensuring there is always something to do when in Boulder.