Best Hiking and Jogging Trails in Boulder: Boulder Walking Trails Guide
Posted by Boulder Home Source on Tuesday, January 5, 2021 at 7:47 AM
By Boulder Home Source / January 5, 2021
Comment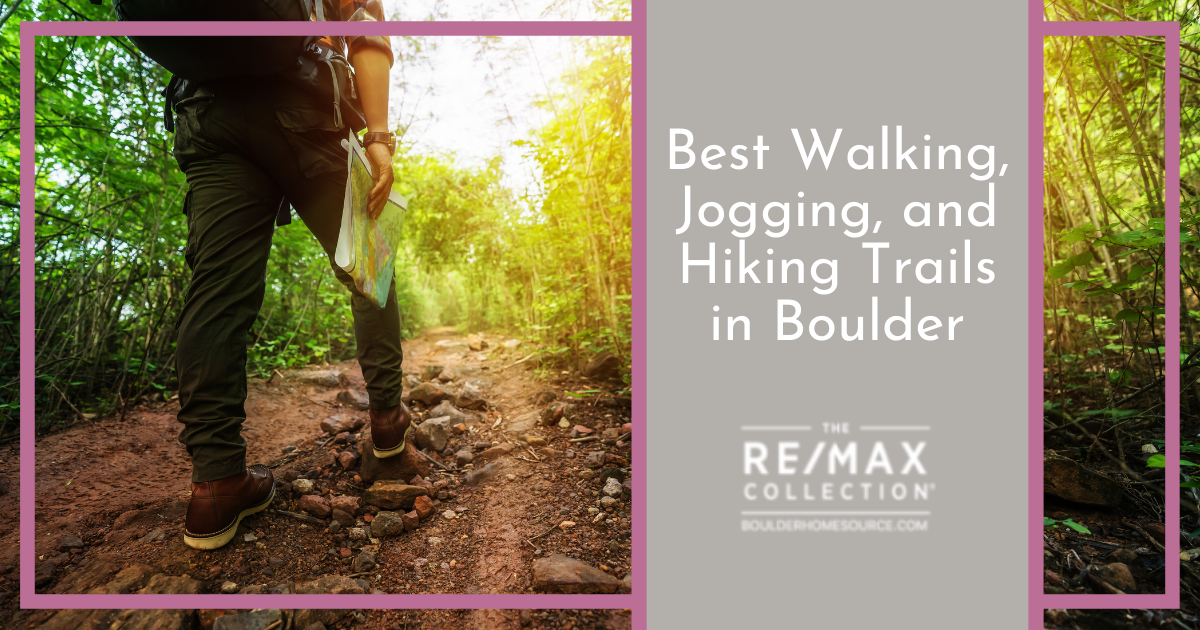 For anyone who enjoys the great outdoors, a variety of jogging and walking trails in Boulder provide the opportunity to explore some of the area's most scenic landscapes and go on outdoor adventures. From easy jaunts along well-maintained trails to rugged terrain that challenges the most experienced hiker, there is something for everyone in Boulder. For established residents, new arrivals, and vacationers planning a travel itinerary, there is a path to be traveled for those who want to get in touch with nature. Lace up your hiking boots and get outside on one of these best trails in Boulder.
Wonderland Lake Trailhead
Address: Wonderland Lake Trailhead, 4201 Broadway, Boulder, CO 80304
The Wonderland Lake Trail offers a serene setting for walking, hiking, and mountain biking. The 1.5-mile loop features a scenic lake, an abundance of colorful wildflowers, and views of the foothills. Spacious paved and gravel pathways provide plenty of room for runners and cyclists. There is also a playground for the younger children. The pet-friendly location is also ideal for visitors to bring their dog for a relaxing walk. The flat surface of the trail makes Wonderland Lake an easy journey around the lake for all ages.
Several activities to enjoy while hiking the trail include fishing, taking pictures, and birdwatching. Be safe by keeping an eye out for local wildlife. From Wonderland, don't be surprised to see paragliders sailing through the air. Just west of the lake and the Foothills Trail, and adventurers have easy walking access to three paragliding launch zones. A fourth launch zone is also available for those being dropped off by car versus walking to the sites. The nearby Foothills Community Park is the touchdown area for those launching from the Wonderland Lake location.
Boulder Valley Ranch Trailhead
Address: Boulder Valley Ranch Trailhead, 3900 Longhorn Rd, Boulder, CO 80302
Located approximately two miles from the city, the working Boulder Valley Ranch is popular as a hiking destination with local residents and travelers alike. Several easy-to-maneuver trails with flat-to-rolling terrain make up the area, allowing hikers to choose the option that fits their skill and endurance levels or combine trails to create hikes of shorter or longer lengths. The historic ranch makes an interesting destination for viewing wildlife, taking pictures of a vintage 1930s smelter, viewing the reservoir, biking, and on-trail horseback riding. Off-trail horseback riding is not allowed due to the area's rare plants and unique shale soil.
Trails making up the network include the 2.6-mile Eagle Trailhead and the 1.8-mile Sage Trail, which forms a loop, or hikers can veer off and hike the 0.9-mile Cobalt Trail. There is also the Foothills Trailhead, a 0.8-mile loop on the Mesa Reservoir Trail, and the 1.0-mile Hidden Valley Trail located in the Mesa Reservoir area. While there are no picnic facilities available, there are restrooms. For those who prefer to bike than hike, the Sage and Eagle Trails allow bicycles. The international bicycle symbol is posted on those trails where bikes are allowed. Whichever trail is chosen, hikers can expect stunning views that make an impression.
Royal Arch Trail
Address: Chautauqua Park, Baseline Rd & 9th St, Boulder, CO 80302
Located in the ever-popular Chautauqua Park, the Royal Arch Trail offers a challenge for serious hikers. Timewise, the hike can take two to three hours. The trail is 3.5 miles out and back, and it's rated moderate to difficult. While traversing the trail, which winds its way through Bluebell Canyon, there are many things to see along the way such as a natural spring, interesting rock formations, meadows, and raptors soaring through the sky. Once the summit is reached, the Royal Arch formation is spectacular to see.
The trail itself is rugged, with a series of uphill and downhill hiking over rough and rocky terrain. While the shaded trail offers scenic views that are especially beautiful during the morning along with assorted wildlife that are inquisitive and active, hikers should expect some portions of the trail to be strenuous. Bringing trekking poles is recommended, as well as plenty of water and snacks to stay hydrated and fueled. It is worth the effort to reach the top and walk around and through the Royal Arch and enjoy looking at Boulder down below. When the weather is clear, it's even possible to see Denver. It's views like these that inspire many people to move to a mountain cabin in Boulder or buy a luxury property.
Shadow Canyon Trail
Serious hikers who prefer a challenging jaunt that requires a lot of stamina to navigate can find a challenge on the 7.8-mile Shadow Canyon Trail. While the trail is expansive with wide-open spaces, hikers can expect little to no shade for a good portion of the hike at the beginning and at the end. While hiking, the trail tends to be on a gradual incline that becomes increasingly steeper and rockier. Trekking poles are a definite "must have" piece of equipment.
The landscape along the trail comprises a burned area dotted with felled trees that offers exceptional views, a running creek, and a portion featuring tall trees. The tall trees provide shade, which is a nice respite from the non-shaded portions of the trail. May through October is the suggested time to get the most out of the trail and the views and to avoid snow and ice, which adds to the difficulty level of Shadow Canyon. Be aware of wildlife inhabitants in the area such as black bears, mountain lions, mule deer, coyotes, raptors, and rattlesnakes.
Mount Sanitas Trailhead
Address: Mount Sanitas Trailhead, Sunshine Canyon Dr, Boulder, CO 80304
Mount Sanitas is a popular destination for Boulder residents and visitors with its extraordinary mountain views, wildlife observation, and views of Boulder. While hiking on the Mount Sanitas Trail, hikers can choose to hike other trails such as the Sanitas Valley Trail, Dakota Ridge Trail, or the Mount Sanitas Loop Trail. The Mount Sanitas Loop Trail is the most difficult. It is a 3.1-mile loop rated medium due to the rock and log steps to navigate along the way. This hike provides panoramic views of Boulder once the summit is reached.
The Mount Sanitas Valley Hike is the quickest and easiest and perfect for a relaxing stroll. It is an out-and-back two-mile excursion in a peaceful atmosphere with lovely landscape bordered by a creek. The Dakota Ridge Trail is a two-mile loop or an out-and-back hike. The type of hike depends on whether hikers partake of the side trails leading off the Sanitas Valley Trail, so hikers can customize their hike if they choose to. Dakota Ridge is rated easy to medium. Hiking time takes approximately two or more hours with no shade as the trails are mostly open without tree cover.
Explore the Wild in Boulder's Backyard
The network of accessible trails is just one of the reasons to move to Boulder or to make it the next vacation destination. Colorado's reputation for impressive mountain views, scenic landscapes, bubbling streams, an abundance of assorted wildlife, and outdoor adventures from laid-back golf courses to thrilling whitewater sports means residents and those enjoying a weekend or extended getaway have access to year-round entertainment and assorted activities. Whether personal outdoor recreational preferences include hiking, walking, running, mountain biking, traditional bicycling, rock climbing, or horseback riding along Boulder's many scenic trails, residents can find what they want in Boulder.