8 Boulder Builders Ready to Design Your Dream Home
Posted by Boulder Home Source on Wednesday, September 15, 2021 at 10:31 AM
By Boulder Home Source / September 15, 2021
Comment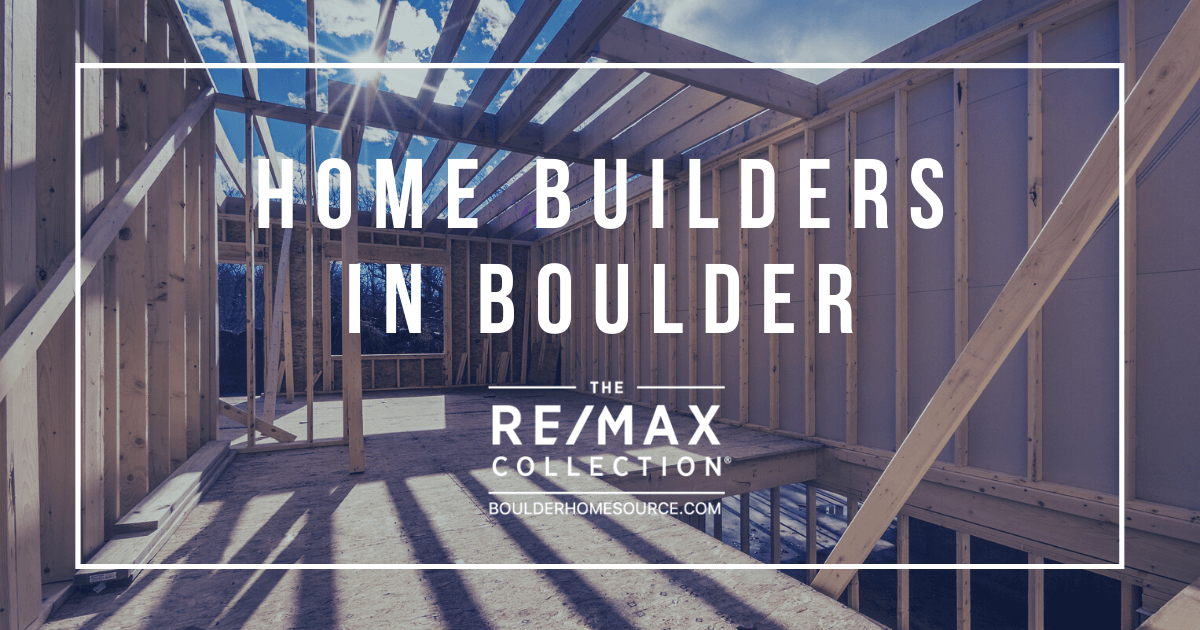 Home Builders in Boulder, CO: Boulder's Most Popular Home Builders Guide
Moving to the Boulder community can be incredibly rewarding. Living in a brand-new home can be equally satisfying. However, buying or building a new construction home in Boulder can be a daunting task, and homebuyers should be prepared to research to find the best home builder for their needs. When looking for that perfect custom Boulder luxury home, the key is to find a company that understands the vision and has the knowledge and experience to bring it to fruition.
In Boulder, there are a number of construction contractors specializing in a wide variety of home styles and price ranges, but the following list can help get homebuyers started. Read on to find out more about the most popular home building companies in Boulder, Colorado.
Rodwin Architecture with Skycastle Construction
Sometimes it takes the best of both worlds to get things done. Founded by Scott Rodwin, Rodwin Architecture was created in 1999. They specialize in full-service, custom-designed homes with an eye for green technologies. Skycastle Construction also has expertise in bespoke green designs, but this time from the builder's perspective. Since 2001, the two companies have been working together as the ultimate tag team.
Located in Boulder, the group accepts projects throughout Colorado and the Rock Mountain Region. They specialize in creating energy-efficient homes with sustainable designs. From architectural design to the physical building process, the company handles every single stage of the home building process. They have completed dozens of commercial and residential real estate projects and hold the awards as proof.
Recognition includes 2016 Residential Architecture Firm of the Year by Boulder, BUILD-News, and multiple awards as Top Mountain Architect by Mountain Living Magazine.
Rodwin Architecture with Skycastle Construction Additional Information
Year Established: 2001
Price Range: $500,000 to $3 million
Areas Served: The Broomfield community, Boulder, the Denver community, Eldorado Springs, Gold Hill, the Gunbarrel community, Longmont, the Louisville community, the Niwot community, the Pine community, the Sugarloaf community, Seven Hills, Sunshine, the Superior community, and Valmont
Architecture Styles: Custom Design, Green Farmhouse, Mountain Ranch, Cottage, Treehouse, and Ranch
Melton Design Build
Founded by Ty Melton, Melton Design Build is another popular Boulder construction company. Beginning as a construction company in 1993, they soon grew into a full services contractor. Today, they focus on taking projects from idea to finished on time and on budget. The firm has received numerous awards for its work, including the 2016 HBA CARE Awards for Luxury Kitchen Remodel & Whole Home Remodel Gold Winner.
While the company can do custom home builds from the ground up, they are primarily a renovation company. Over the years, they have completed commercial redesign finishes for companies like Starbucks, The Boulder Community Hospital, and Chicago Hair. They have also completed hundreds of residential renovations and repairs, including bathrooms, basements, decks, kitchens, and more.
Melton Design Build Additional Information
Year Established: 1993
Price Range: $100,000 to $3 million
Areas Served: All of Boulder County, Colorado, including the Erie community, the Longmont community, Lafayette, and Louisville
Architecture Styles: Custom Design, Retreat Homes, Remodels, Commercial, Modern Farmhouse, and Family Ranch
NatureCraft Custom Homes
As the name sounds, NatureCraft has a focus on building solid bespoke builds. The company has been in business for twenty-five years and was created by Travis McKenzie. With a firm philosophy based on creating personal designs for each home, they specialize in cost-effective, energy-efficient buildings. Consumers can choose all-natural materials for a historical touch or enjoy the latest technologies.
Although they offer a variety of styles, the customer favorites involve mountain homes. These designs incorporate the log cabin or rustic wilderness aesthetic with the latest in modern conveniences. However, they can also design and renovate kitchens, bathrooms, and bedrooms. As a recipient of the 2018 Houzz Customer Service Award, they strive to give every customer personal attention from start to finish.
NatureCraft Custom Homes Additional Information
Year Established: 1994
Price Range: $100,000 to $3 million
Areas Served: The Fort Collins community, the Loveland community, the Laporte community, the Severance community, the Windsor community, the Timnath community, and Summit, Boulder, and Weld Counties
Architecture Styles: Custom Design, Mountain, Range Log, and Canyon Masterpiece
Built By Krueger
Built By Krueger is a family company currently run by Brian, Matthew, and Heather Krueger. The firm operates as a joint real estate and construction company. From their headquarters in the nearby Lafayette community, they have been providing real estate services, building custom homes, and handling remodeling since 1977. They do not provide design services but are accustomed to working with architects to build the desired creation.
They provide a wide variety of services, including kitchen, bathroom, and basement remodeling, custom home builds, new home construction, and home additions. Because they also provide real estate services, they can be the ideal contractor for owners that plan to sell or rent. They can help with renovations to enhance the home's value before it is placed on the market or handle the real estate purchase with an estimate for a custom renovation.
Built By Krueger Additional Information
Year Established: 1977
Price Range: $100,000 to $1 million
Areas Served: Boulder, Broomfield, the Eldorado Springs community, Erie, Gunbarrel, Louisville, Paragon Estates, Valmont, and the Westminster community
Architecture Styles: Mid-Century Modern, French Country, Custom Design, and Remodels
Hammerwell Incorporated
For more than 40 years, Hammerwell Incorporated has been providing the residents of Boulder with high-end new residential homes and remodels. They focus on a minimalist style marked by energy and space-efficient designs. The firm takes pride in being the team that real estate developers and contractors choose to create their personal homes. In addition to new construction homes, they also offer floor plan design, green building layouts, and remodeling for every area of the home.
Starting with the 1995 Metropolitan Home's House of the Year award, they have been consistently recognized for their builds. More recent awards include the 2013 Builder's Choice and Custom Home Grand Award and Merit Award Powder Room. Their designs have been recognized in publications like the Wall Street Journal, Better Homes and Gardens, and Modern in Denver.
Hammerwell Incorporated Additional Information
Year Established: 1977
Price Range: $100,000 to $3 million
Areas Served: Boulder, Eldorado Springs, Louisville, Gunbarrel, Denver, Saida, and Buena Vista
Architecture Styles: Canyon, Cedar, and Hollyberry
Cottonwood Custom Builders, Inc.
Established in 1995, Cottonwood Custom Builders, Inc has two decades of experience developing a large variety of projects. They have experience constructing everything from 10,000 sq ft new construction homes to small remodeling jobs. The company believes in taking a conscientious approach, considering the budget, time, and even the noise levels. Best of all, every one of their project managers holds LEED certifications or certificates in Green Building from Colorado State University. They have the skills and experience to build wonderful structures that are energy efficient and reliable.
The company was founded by Jeff Hindman, who has more than 30 years of experience in carpentry and green technology. Jeff arrived in the industry with a serious commitment to preserving the environment and has worked that focus into every custom project.
Cottonwood Custom Builders, Inc. Additional Information
Year Established: 1995
Price Range: $100,000 to $3 million
Areas Served: Boulder County, Denver, and Longmont
Architecture Styles: Retreat, Colorado Rustic, Green, Tuscan, and Custom Designs
Shadow Creek Homes
Founded by Toby Terhune, the staff at Shadow Creek Homes boasts more than a half-century of combined experience. Over the years, that totals more than 20,000 homes. After more than fifteen years working as a framer and construction supervisor, Toby finally decided to form his own company in 2006. Shadow Creek Homes has built more than 250 residences, but they also provide remodeling services. They can be involved in every stage of the process, including site location.
Shadow Creek Homes can build from the ground in new construction homes, but they also have an inventory of existing newly built structures. They can handle home additions, handicap accessible designs, restorations, garage building, and more.
Shadow Creek Homes Additional Information
Year Established: 2006
Price Range: $500,000 to $2.5 million
Areas Served: Fort Collins, Westminster, the Wheat Ridge community, Greenwood Village, Denver, Glendale, Jefferson County, Lakewood, and Boulder County
Architecture Styles: Remodels, Custom Builds, Contemporary, and Townhouses
Boulder Valley Builders LLC
Founded by David Garner, Boulder Valley Builders, LLC is a locally owned small business. They specialize in the design and renovation of new homes and additions. The company is focused on building but works closely with the designers or architects to fulfill the promise of the customer's vision. Based on their experience, they contribute information about cost implications, materials, and structural concerns during the drawing process. That way, they can help minimize surprises, cost overruns, or permit problems during the build.
In addition to new construction homes, the firm has expertise in structural repairs, historic restorations, decks, landscaping, window/door replacements, detached structures, and fences. Some of their most successful builds include upgrading the kitchen in a 100-year-old house while keeping the original vintage design and a custom-built transitional home in Denver. They offer free initial insight consultations that are a great opportunity for questions and project discussion.
Boulder Valley Builders LLC Additional Information
Year Established:
Price Range: $100,000 to $1 million
Areas Served: Boulder and the surrounding communities
Architecture Styles: Remodels, Vintage Farmhouse, Custom Builds, and Transitional
Building A Home In Boulder
Boulder, Colorado, is a beautiful community experiencing steady growth. The landscape includes wonderful views of the Rocky Mountains and opportunities for breathtaking hikes in the Boulder area. However, before designing and building a home in Boulder's best neighborhoods, it is always best to research and select contractors carefully. Everyone involved must have the same vision to bring ideas into the world.