Best Things to Do With Kids in Boulder: Boulder, CO Family-Friendly Activity Guide
Posted by Boulder Home Source on Tuesday, December 8, 2020 at 10:58 AM
By Boulder Home Source / December 8, 2020
Comment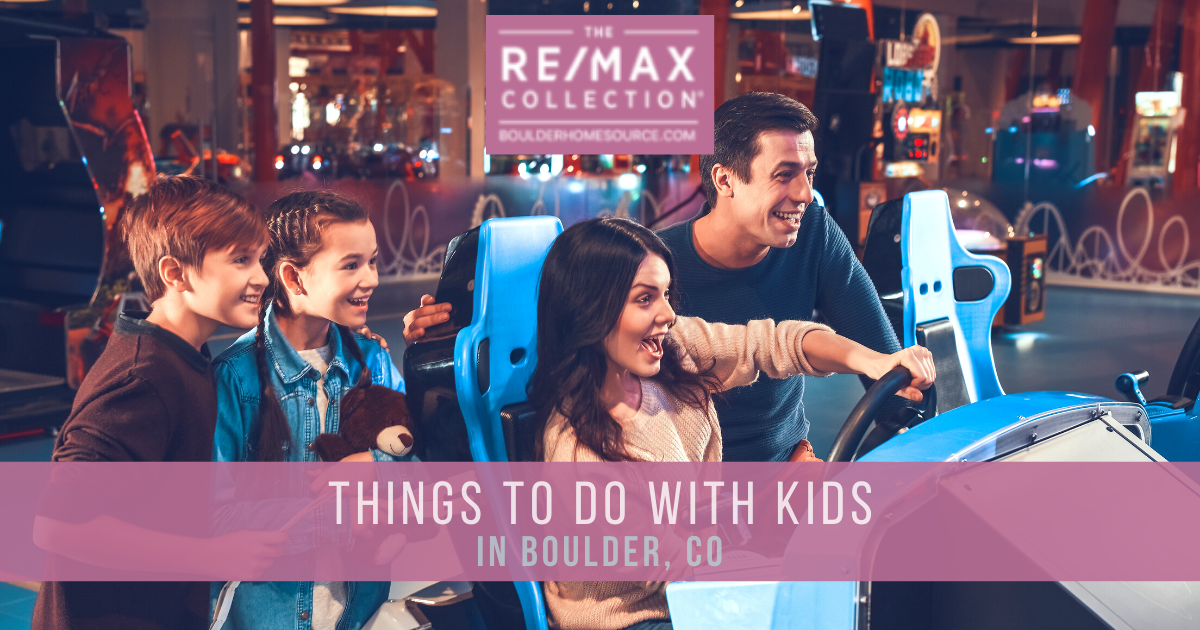 Children who live in Boulder, Colorado, have many opportunities for fun at its many popular attractions. On average, Boulder is blessed with about 245 sunny days, so residents have plenty of time to spend in the city's best parks or exploring its 155 miles of hiking trails. This mountain city is located close to many of Colorado's ski resorts, which means all ages can enjoy snow-filled fun during the winter months. Boulder also offers numerous things to do with kids, including the following standouts.
Museum of Boulder
Museum of Boulder Exhibits
Drawing Parallels
Live from Boulder
Playzeum
Boulder Experience Gallery
Google Garage
Parents who want their children to learn more about Boulder's rich past will definitely want to take them to the Museum of Boulder. The state-of-the-art facility is a showcase for historical Boulder artifacts and the special moments that have made this city what it is today. The Museum of Boulder—and its off-site collection facility—actually house more than 45,000 historical artifacts related to the city's past. Its exhibits focus on important aspects of Boulder's history and include displays about Native Americans, the city's aerospace history, and sports.
The Museum of Boulder works especially hard to make history entertaining for its young visitors by providing them with interesting hands-on exhibits, special events, and programs. The Playzeum, for example, offers kids a place to free play and use their imagination. Then there is the Google Garage Maker Space, which offers children a place to learn more about science, engineering, and technology. Kids can even build and program their own robots to complete simple tasks.
This museum, which is open every day but Tuesdays, offers tickets for adults at $10 and at $8 for seniors, children, and students. Kids under two years of age are free.
Museum of Boulder Additional Information
Hours: Wednesday–Monday, 9 am–5 pm
Recommended Ages: Five and up
Boulder Reservoir
Boulder Reservoir Activities
Kayaking
Swimming
Hiking
Picnicking
This large multi-use artificial lake is a very popular place for Boulder residents and their children to enjoy outdoor activities. The Boulder Reservoir boasts lovely views of the Flatirons, and visitors will find plenty of things to do, including picnic sites, a swimming beach, volleyball courts, and horseshoe pits. Families who prefer to be on the water can rent a pontoon boat and go fishing or just enjoy a quiet cruise. For those unsure of their boating skills, a captain service is available. Families can also rent other watercraft, including paddleboards, kayaks, and canoes.
Hiking and biking are also popular activities at the reservoir. There is a 5-mile loop trail that goes around the reservoir, and lucky visitors might even spot one of the wild critters—such as coyotes, rabbits, and prairie dogs—that live in the area.
Visitors to the reservoir should be aware of a few rules, including:
Dogs are not allowed in the park between May 15 and Labor Day.
Camping is prohibited.
Swimming is only allowed in designated areas.
Guests should always check the Boulder Reservoir website for any closures or changes in hours.
Boulder Reservoir Additional Information
Hours: 5:30 am–9 pm
Recommended Ages: All ages
Gateway Park Fun Center
Gateway Park Fun Center Attractions
Mini golf
Go karts
Batting cages
Human maze
Arcade
Driving range
Inline hockey
The Gateway Park Fun Center is the perfect place for those who want to have fun but can't decide on what activities they want to do. Why? Because it's packed with a slew of entertainment options, including:
An arcade where patrons can play fun games and win tickets that they can redeem for prizes
A challenging maze where guests can try to beat the clock and win a prize for finding their way out in under six minutes
The longest go-kart road track in Colorado (drivers must be at least nine years of age and 58 inches tall)
Two 18-hole miniature golf courses, complete with interesting and fun obstacles
A driving range
An inline hockey rink
Batting cages
This center also has a snack bar where patrons can purchase typical amusement park-style food, such as hot dogs, pizzas, and sodas. Gateway is also a popular place to throw a child's birthday party and offers several party packages.
This center, which is open every day year-round from 10 a.m. to 8 p.m. has more detailed information about pricing, special discounts and offers, and hours of operation available on their website.
Gateway Park Fun Center Additional Information
Boulder County Farm Trail
Boulder County Farm Trail Attractions
Pumpkin patch
Farmers market
Petting farm
Picnicking and dining
One of the best parts of living in Boulder? It offers residents all the comforts and conveniences of a progressive city, like excellent shopping, but it is also surrounded by the beauty and bounty of the country. To showcase the beautiful tapestry of farmland surrounding the city, the Boulder Convention and Visitors Bureau worked alongside farmers to create the Boulder County Farm Trail.
Boulder County is home to more than 850 farms, and a number of them welcome visitors. The Boulder County Farm Trail brochure includes information on a scenic drive (or bike ride) that will take you to the farms that are participating in this program. Along this trail are pumpkin patches, fresh produce stands, and even a farm where people have the possibility of meeting baby goats. The scenic drive is about 60 minutes in length without stops. But of course, the point of this trail is to stop and learn more about these farms and the incredible people who run them.
Some farms also offer special classes and courses. One farm, for example, offers baby goat yoga, while another has classes on beekeeping. At the Children's Peace Garden at Growing Gardens, kids can learn about locally grown food and eating healthy snacks straight out of the garden.
Boulder County Farm Trail Additional Information
Address: Various, see Farm Trail pamphlet for more information
Hours: Various, see individual farm websites for more information
Recommended Ages: All ages
ABC Kids Climbing
ABC Kids Climbing Amenities
Climbing classes
Kids camps
Open gym
Certified instructors
Birthdays
Private lessons
Robyn Erbesfield and Didier Raboutou love climbing and wanted to share their passion with their kids and others. So, the married competitive climbers decided to open ABC Kids Climbing. This facility states that it is the only climbing gym in the world that has more than 7,200 square feet dedicated specifically for teaching children climbing skills. Children 2.5 to 5 years of age have a specially designed area called the ABC Room, where they can learn the basics of climbing. Once children have demonstrated that they have the necessary physical and mental ability and are at least 2.5 years of age, they can move up to ABC's state-of-the-art climbing facility.
ABC Kids Climbing is also the training grounds for ABC's team of champion climbers. These athletes serve as important role models for aspiring young climbers who may want to join one of ABC's competitive teams.
Climbing teaches children to overcome their fears, to try new things, and to test their limits. This sport also shows a child the importance of preparation and training. Children who climb must also use logic and problem-solving to overcome obstacles and to achieve their goal of reaching the top.
ABC Kids Climbing Additional Information
Hours: Monday–Friday, 9 am–9 pm; Saturday–Sunday, 8 am–6 pm
Recommended Ages: Four and up
Have Fun in Boulder Today
Children grow up quickly, so parents need to remember to take a few moments out of each week to explore and take in Boulder's many extraordinary sights. Playing with goats, discovering new trails surrounding Boulder mountain cabins and luxury homes, or racing go-karts—these are the times that precious memories are made of and are absolutely priceless. Thinking about moving to Boulder? Book a Boulder hotel and visit Boulder on vacation to find out what makes this city so special.